Is it just us, or is meditating easier on a beautiful, breezy day? Set your intentions—whether to find inner calm or pay attention to nature—in motion with these mesmerizing designs.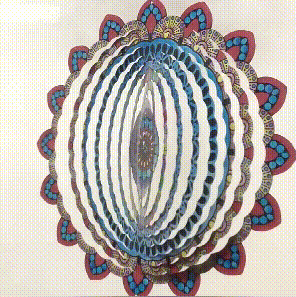 Inspired by classic Hindu and Buddhist mandala imagery, the twirling metal pieces come flat and pop out in layers to reveal a vibrant three-dimensional design. When the wind blows, they spin blissfully, and "radiate" from the center. Give the soothing piece to your favorite yogi or friend with a calming presence.
This fantastic weather-resistance rotating wind spinner for outside provides a mesmerizing 3D display of movement with vivid color. The stainless composition and brushwork maintain its good looks season after season. So our wind sculptures & spinners are the best choices for your gallery, lawn, or garden.
Specifications:
Product Name: Heart  Wind Spinner Decoration
Product Dimensions: 11.8 x 14.9 x 0.01 inches
Material: Stainless Steel

Weight:360g

Package: Gift Box Packaging
Package Included:
1 x Wind Sculptures & Spinners
1 x Swivel Hanging Hook
1 x Instructions