This bathrobe also can be used as a warm coat in winter, if you choose the right size for your pets (how to choose please see size chart), they will walk or run freely, just like wearing a coat. If you worry your pets catch a cold on a winter night, this bathrobe also can be used as pajamas.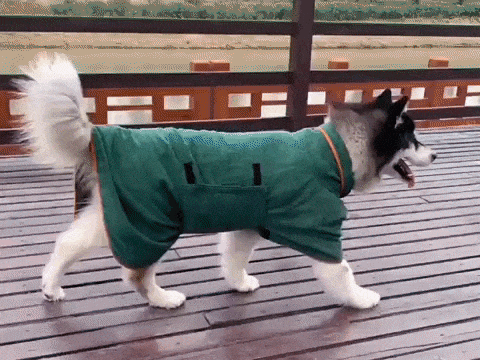 The MATERIAL
100% premium Microfiber, this fabric is durable and absorb water well, easy to clean, machine wash is available.




SIZE INFORMATION
Total is 5 sizes from XS to XL, small, middle, and large dogs and cats all will be fit well, before placing an order, please measure your pet's back length, then choose the right size for your pet. The chest and neck round is adjustable, they cover your dog's body much better.



SUPER ABSORBENT & QUICK DRYING
This bathrobe can be covered your pet's whole body, if your pets take a shower or get wet in the rain, help them wear the bathrobe to dry the moisture quickly from their hair.



EASY TO WEAR
The bathrobe is light, if you plan to have a flown trip with your pets, you can put this bathrobe in your bag, maybe you will need it when your pets get the moisture from the wild.
Size