- Eight wave frequency conversion, good driving effect
- Safe and radiation-free, you don't have to worry about your health
- 360-degree full coverage, range 160 square meter, no mouse, mosquito, or fly in your field of vision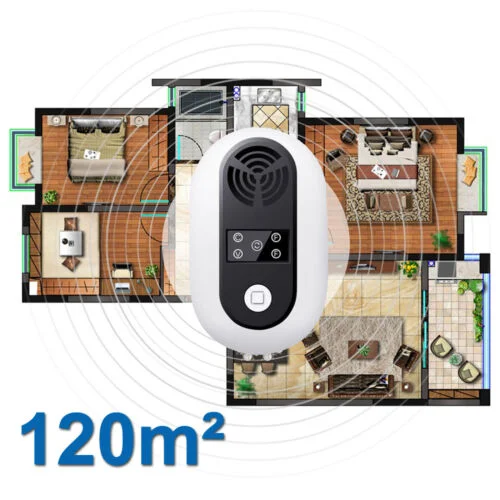 Specification:
Rated power: ≤5W
Rated voltage: 110 - 240V DC / 5V
Frequency range: 19 - 100KHz
Mode:
1. CF mode (fixed frequency) fixed transmission of 8 frequencies (21kHZ 25kHZ 34kHZ 36kHZ 19kHZ 62kHZ 100kHZ 4kHZ)
2. VF mode (frequency conversion) frequency conversion transmission 19kHZ-100kHZ
Application Scenes:
within ABOUT 100-120 square meters, widely used in households, warehouses, hotels, hospitals, offices, etc.
Instructions NOTE:
1. 0.5 - 1.5m from the ground.
2. Do not power off at the beginning. It is recommended to use for a long time.
3. In the previous period of 7- 10 days, use CF fixed frequency to drive.
4. In the later stage, adjust to VF frequency, and cooperate with the product light wave drive function.
5. The screen displays 25 seconds, then it will automatically turn off and enter the energy saving mode.
6.
Ultrasonic waves propagate in a straight line. Should be no obstacles 1 meter in front , do not let the product face the door or window;
Package Contents: