Medusa- She represents a dangerous threat meant todeter other dangerous threats, an image of evil to repelevil.🐍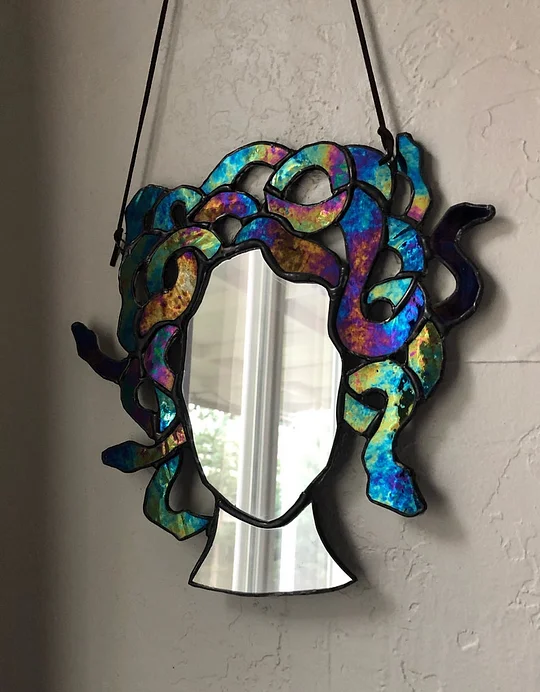 This Ancient Greek Medusa Head Suncatcher is madefrom glass mirror, iridescent black glass and featuresthe silhouetted face of Medusa the Gorgon from Greekmythology. It measures 18"X 18" and is finished with ablack patina.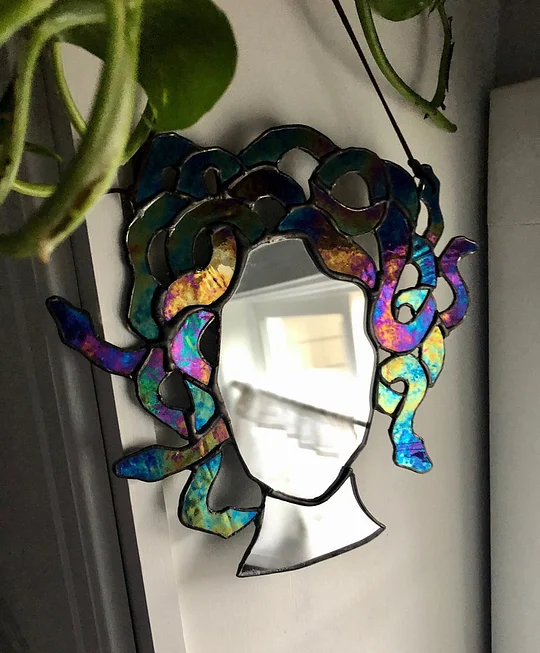 Please noted that the cover of the suncatcher should beremoved before using it.❤️💜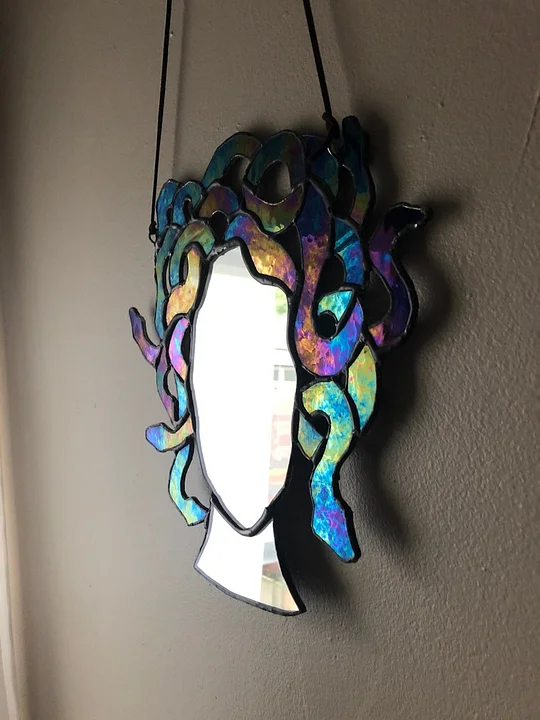 They are really sturdy and make for a real unique gift for the friend,new couple, mother or any girl who loves beauty!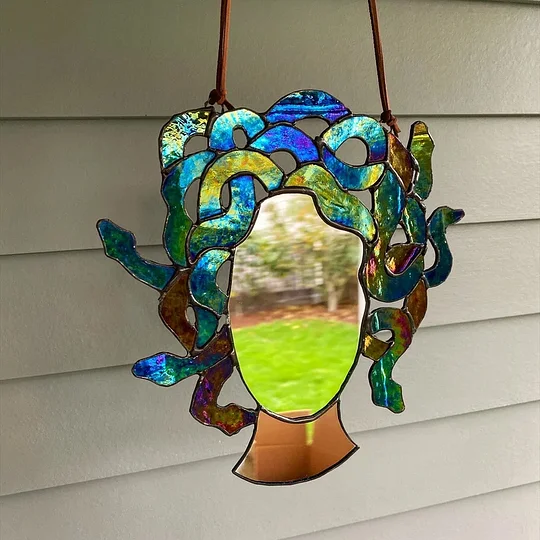 DETAILS:
Material: Black patina, copper, glass
Size:18 x 18 inches
Package: 1 x Hologram Medusa Suncatcher
Frequently Asked Questions
1.Care instructions
-Your glass piece is made using standard solder, which is most often a 60/40 mix of tin and lead. Though any risks posed by the handling of your piece of very minimal (lead is harmful by inhaling or otherwise ingesting it) it's always best to wash your hands after touching or handling your glass piece.
Over time, the solder seams of your piece will oxidize. They have been waxed to prevent this for as long as possible. Some people like this aged look, but if you don't, a simple thin coat of carnauba wax and a quick buff with a soft cloth will shine it back up. (Take care to be extra gentle if your piece has a copper or black patina as buffing too harshly will damage it.)
Do not use regular glass cleaner will as it will remove the finish.
2.Can I request a piece made with lead-free solder?
-Yes, if we are discussing a custom piece you may request it be made with lead-free solder (at an additional cost).
(Please note that all jewelry is automatically made with lead-free solder)
3.Hanging and display suggestions
-Most sun catchers and wall hangings will usually arrive with a length of faux suede cord as a courtesy, but I do not recommend using this as a permanent hanging option.I absolutely do NOT recommend using suction cups as these will almost always result in a damaged or destroyed piece. If you'd like to hang your piece in a window, a good workaround is to install a screw hook at the top of the window frame and use sturdy chain to hang your piece from there.
4.Do you offer discounts for multiple items?
-Stained glass is a very labor-intensive craft, as well as an expensive one. Although Materials and tools are costly and the price does not diminish with volume, I am able to offer discounts for multiple items.