The colorful wind spinner with buddhist mandala design is made of durable stainless steel, which can form a vivid and flexible shape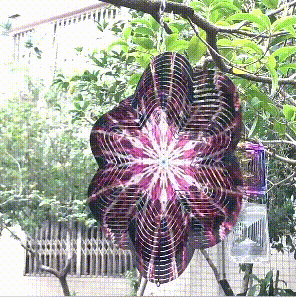 This fantastic weather-resistance rotating wind spinner for outside provides a mesmerizing 3D display of movement with vivid color. The stainless composition and brushwork maintain its good looks season after season. So our wind sculptures & spinners are the best choices for your gallery, lawn, or garden.
Our big shiny wind sculptures & spinners feature an ingenious metallic construction to absorb much wind force, together with an easy-revolving hook to deliver smooth movement even a weak wind blows.
Specifications:
Product Name: Heart Wind Spinner Decoration
Product Dimensions: 12.9x 8.6 x 0.01 inches
Material: Stainless Steel

Weight:360g

Package: Gift Box Packaging
Package Included:
1 x Wind Sculptures & Spinners
1 x Swivel Hanging Hook
1 x Instructions