Give Your Pets The Regular Routine They Prefer With This Electronic Feeder 😍
Do you work late or do you want to sleep? It has you covered. Use the electronic pet feeder for anything from feeding furry family members. The timed feeder makes sticking to a regular schedule, whether at home or at home, easier than ever. The automatic feeder provides six separate food cells. Simply pour a measured amount of dry or semi-wet cat or dog food into each section ahead of time, and then select your desired feeding intervals up to 24 hours.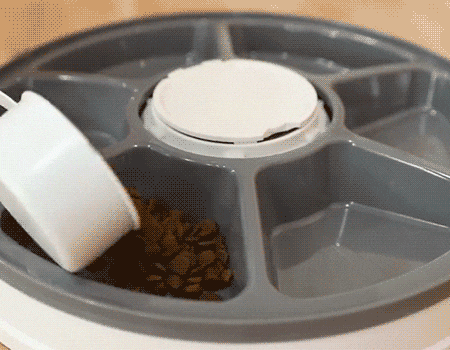 The automatic pet feeder with a built-in voice recorder, the automatic pet feeder is a device that dispenses food to your pet at pre-set times of the day, regardless of whether you're going on holiday or just trying to manage your pet's weight more effectively. You can feed your pet up to four meals at scheduled times, and every meal has 1-20 portion control, which can help your pet develop good eating habits.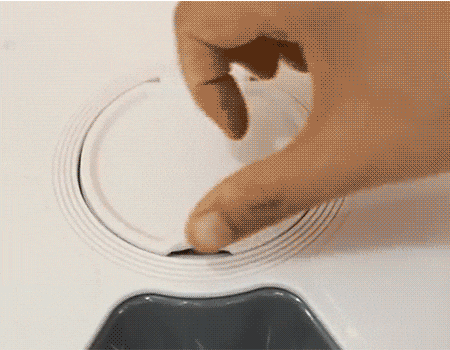 Our 6 grids dog food dispenser allows you to feed pets at regular time from now, you can distribute the different amount of food for each meal, re-designed the switch of top cover can prevent from your pets from clawing out more food even though they're greedy, and stop pets from overeating, controlling their weight and giving them a healthy life. Portion control sound alert call your puppy or kitty for meals, will help your pet keep a good habit to eat at regular hours, and keep diet.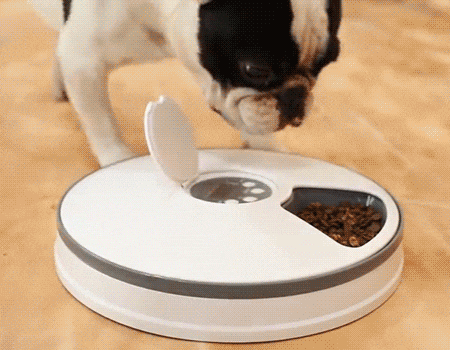 FEATURES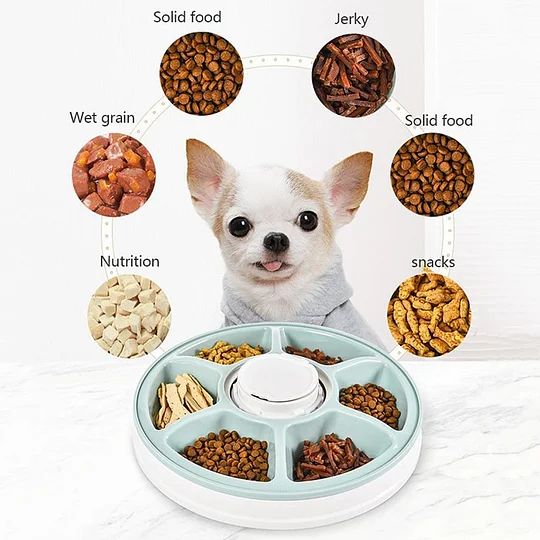 SPECIFICATIONS
Material:

ABS
Color: Black、White
Diameter:

about 30 cm
Height:

about 7 cm
Capacity:

6 x 128 ml
Battery:

3 x AA batteries(not included)
Package Included: 1 Pc x Pet Automatic Feeder