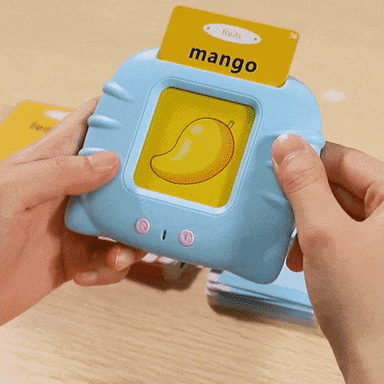 This is a must-have for children building their vocabulary and learning the meanings words carry. This is a one-of-a kind toy that enables children to have so much fun while learning.


Why Kids Need This!
Using great sound effects and colorful pictures, Our Pocket Vocab teaches both audio and visual recognition of essential words, perfect for preschoolers and early readers.
Endless Entertainment: With over 200 unique cards of animals, food, fruits, and many more, this item will be the new favorite for your child!
Vocab Fun: Pronouncing each word and its associated sound effect, Pocket Vocab makes learning new words exciting and fun!
Outstanding Design
Our Pocket Vocab has no screen! Your little ones will have reduced screen time while learning new words and having loads of fun!
Additionally, there are built-in buttons to adjust volume and repeat the sounds!


Start Learning in Seconds!
1. Press the power button and the welcome message will play.
2. Insert any card to hear the word's pronunciation and sound effect.


Features
Pronunciation & Sound Effect
Pocket Vocab plays both the card's pronunciation and sound effect, so that your child can imagine the word in their head!
Perfect for Parents & Teachers
Teach new vocabulary and pronunciations at home or in the classroom.
Simply insert a card into Pocket Vocab, and listen! Press the repeat button to play the sounds again!
Designed to mimic a screen, Pocket Vocab keeps your children away from phones and tablets, reducing screen time.
Over 200 cards of animals, foods, people, and transportation come with Pocket Vocab!
Pocket Vocab is made from a smooth premium plastic that is non-toxic and completely safe for children.
What You Get:
1 Tater Tots™ Pocket Vocab, 224 cards, 1 charging cable.
FAQ
Does Pocket Vocab require charging or batteries?

Yes, Pocket Vocab has a built-in 300mAh battery that needs to be charged from time to time. Automatically shuts off to preserve battery life.

How many cards are included?

Pocket Vocab comes with 224 unique cards.

Can I order more cards in the future?

We are currently in the process of creating new cards and will let you know when these are ready to order!

Are there versions that play in different languages?

We only have an English version for now, but we are currently developing other languages version!

What are the dimensions?

The dimensions of Tater Tots™ Pocket Vocab is 4.2 inches x 3.5 inches.
THIS PRODUCT IS A LIMITED PRODUCTION, AND IS NOT AVAILABLE IN STORES. WILL SELL OUT FAST!