Grab your Discounted Professional Grade Led Pet Nail Clippers while the store LAUNCH DISCOUNT is on. Once we reach 300-unit sales, we will be increasing the price back.
Do yourself and your furry friend a favor and get our pet clippers as a gift to both of you!
The LED Light Dog Nail Clipper is a safe and easy way to cut your dog nails using super-bright LED lights and 5X magnifications to illuminates your dog nails and helps to detect the quick. The nail cutter is made of sharp hardened steel to ensure that it cuts nails quickly and easily. Clipping your dog nails is no longer tedious or even painful task. Save all the time & money by not visiting pet clinic or groomer.
Pet Nail Clipper ensures that you can trim your pet's nails without risking injury or discomfort to the pet. The super bright LED light means you can see exactly where you need to cut. It also has nail storage so you don't have to clean nail shavings on the floor and clothes.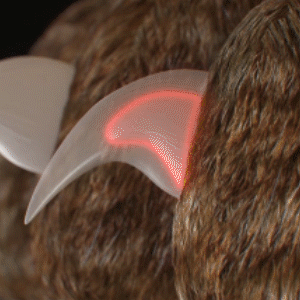 Main Features
✔️DESIGNED FOR SAFETY FIRST
With a protective guard to protect your dogs from "Over-trimming" and safety lock for easy storage.
✔️IT CAN ALSO ILLUMINATE BLACK NAILS
For dark nails, be sure to look at the dark nail head-on, once you see a small dark circle, this is as far as you should go.
✔️5X MAGNIFICATION
5X the magnification, and doubles as a nail trapper. Nail trapper helps catch nail clippings for easy cleanup!
✔️HIGH QUALITY AND EASY TO USE DESIGN
Lightweight, non-slip rubber handles for a comfortable grip and safety dog nail cutter.
Specifications
Product Size
Shipping Info:
Estimated Delivery Time: US 10-25 Days; Worldwide 15-30 Days.